Delaware License Plates - All Special Tags
The special tags available in the state of Delaware have been listed alphabetically for your convenience. Because of the length of the list, it has been broken down into smaller segments. Please click on the appropriate links below to find the special tag of your choice.
---
A
Air Medal
Air Force
Commendation Medal

Alpha Kappa Alpha

Alpha Phi Alpha
American Legion
Antique
Automobile
Antique
Motorcycles
Army
Commendation Medal
Army (Dept of)
---
B C D Top

Breast Cancer Awareness

Bronze Star
Buffalo Soldiers
Call Tags
(Sample 58A)
Caesar Rodney Centennial
Cancer Support Community

Cape Henlopen High School

Caravel Academy
Choose Life
Coast Guard

Conquer Childhood Cancer
Credit Union
Delaware Association
of Realtors
Delaware Civil Air Patrol
Delaware Correctional Officer

Delaware Episcopal Diocese

Delaware East Carolina University

Delaware Mobile
Surf Fisherman
Delaware Organ Donor
Delaware Senior Olympics
Delaware State University

Delaware Technical University
Delaware Veterans
Delaware William Henry High School Alumni

Delmar

Delta Sigma Theta

Delta Waterfowl

Disabled American Veterans

Distinguished Flying Cross
Distinguished
Service Cross
Dover High School
Ducks Unlimited
---
East Carolina University
Eastern Star PHA

Elks Lodge
Farm Bureau

Felton High School
Flyers Charities

Fraternal Order of Police
Goldey Beacom College
Groove Phi Groove
Harrington High School
Honoring Veterans
---
I J K L M Top

Indian River HS Alumni
Johns Hopkins University
Kappa Alpha Psi
Kings Point - Merchant Marine

Knights of Columbus
Ladies Auxiliary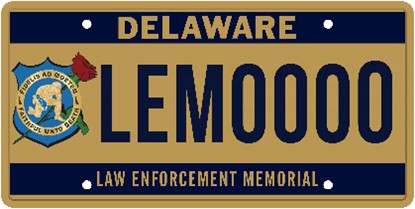 Law Enforcement Memorial
Lions Club

Loyal Order of Moose
Marine Corp League
Marines
Masonic Mason
---
N O Top
Nanticoke Indian
Association
National Guard
National Rifle
Association
Navy Commendation Medal
Navy (Dept. of)
Navy Cross
NCC Retired Police

Newark High School
Notre Dame
Nur Shrine
Ohio State University
Omega Psi Phi
Order of Eastern Star
---
Pearl Harbor Survivor

Penn State University

Phi Beta Sigma Fraternity, Inc.
Purdue University Alumni
Prince Hall Affiliated
Prisoner of War
Professional Firefighter
Purple Heart
Reserve Forces
Retired New Castle Police Department
Retired State Police
Saint Josephs
University
Salesianum Alumni
Silver Star
Stop Child Abuse
So. Delaware Street Rod Association

Standardbred
Owners Association
Submarine Service

Telephone Pioneers
Temple University

United Auto Workers
United States Air Force

University of Delaware

University of Michigan

University of Pennsylvania

US Naval Academy
---
V W X Y Z Top

Veterans Foreign War
Vietnam Veteran

Villanova University
Virginia Tech
Volunteer Fireman
Wesley College

West Point

West Virginia University

Wilmington Fire
Department

Wilmington Police
Department
Wilmington University
Zeta Phi Beta