CONVENIENT
Prove your identity and pay for your purchase from the same device at participating locations.
ID check with barcode scanning is quick and easy – and contactless.
Note: It is required by law to present a physical driver license when requested.
SECURE
Safer than carrying your ID in your wallet, the Mobile ID app is secure, using FaceID or TouchID.
Mobile ID puts you in control by letting you decide what information you share.
CONTACTLESS
Your Mobile ID can be checked without your phone leaving your hand, clean and simple.
Seamless information sharing, on your terms.
Download the app today!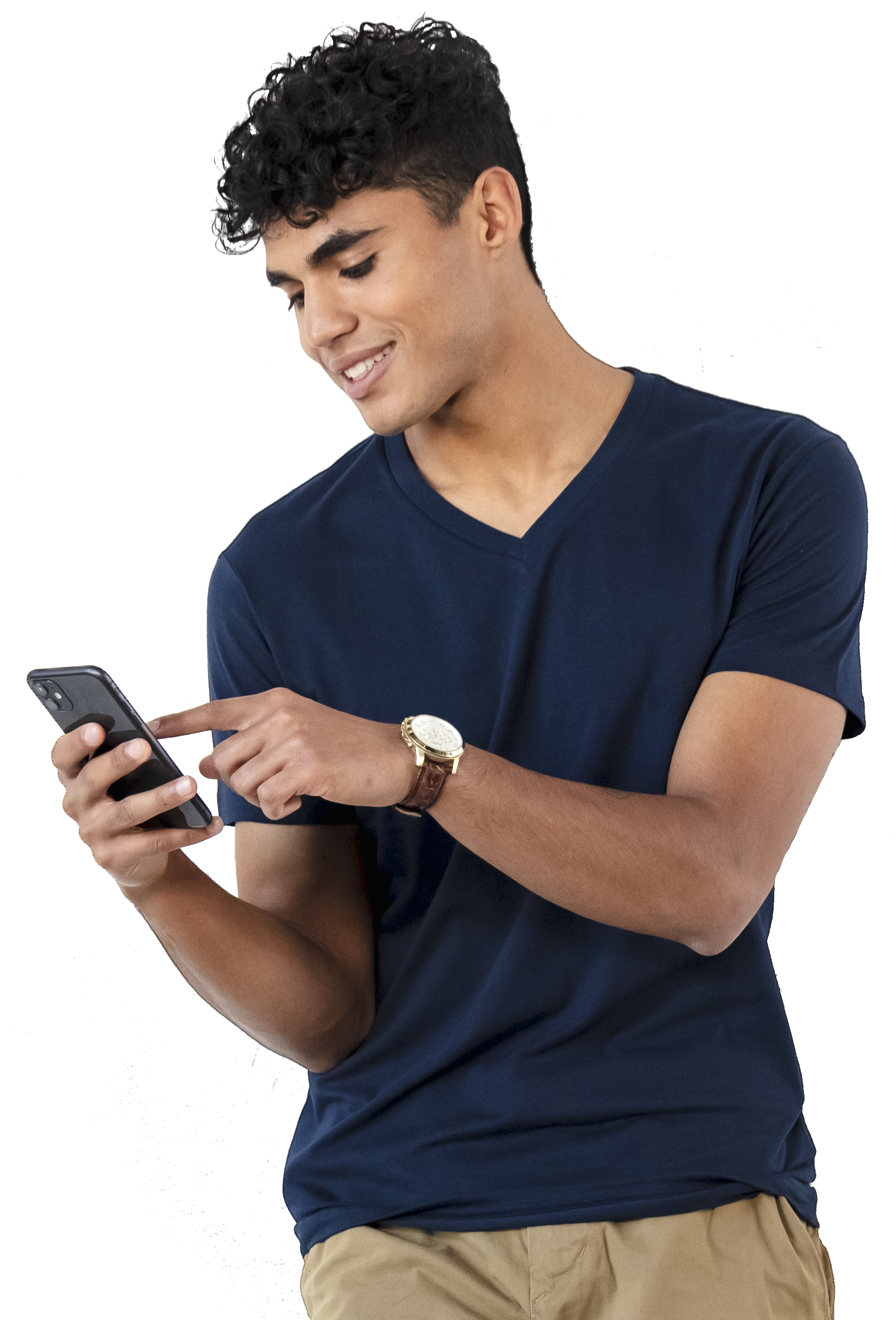 How do I get a Delaware Mobile ID?
2
Register your phone number
3
Scan your ID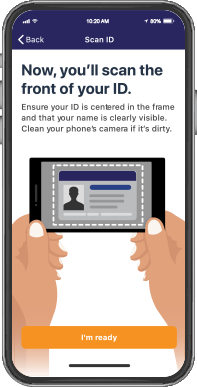 4
Take a selfie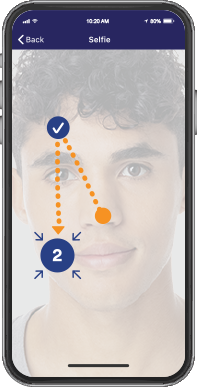 5
Set up app security and go
How do I use my Mobile ID?
1. "Can I see some ID?"
Pull up your ID on your phone. Show the screen with your driver license or ID on it ("IDs"), or the home ("Me") screen.

If needed, you can authenticate your Mobile ID by selecting "Certify". This will display a rotating emblem that follows your finger while moving across the screen.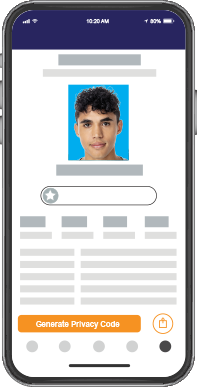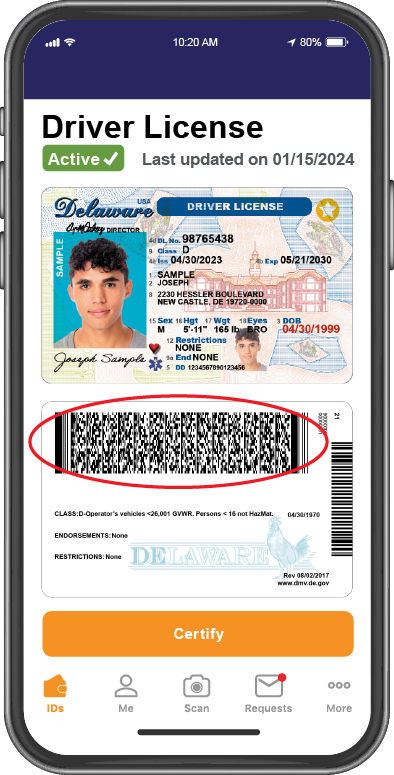 2. "Can I scan your ID?"
Display the barcode from the back of your ID as it's shown under "IDs".


-OR-

Go to the "Me" screen and tap "Generate Privacy Code" to display a bar code only view.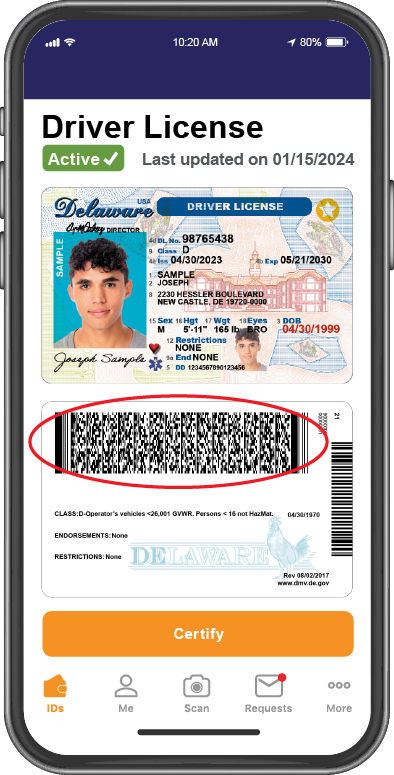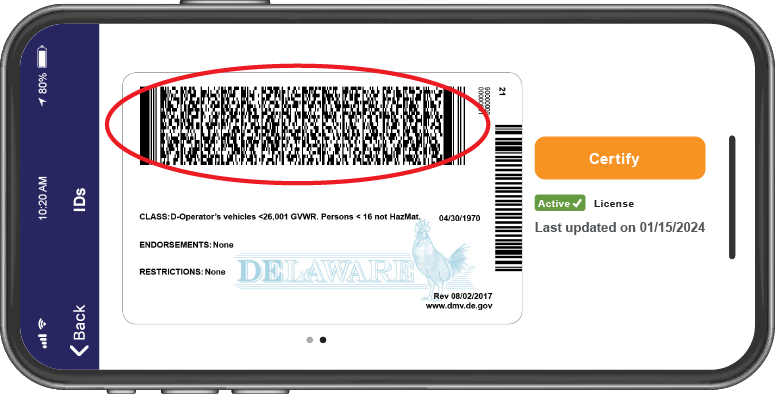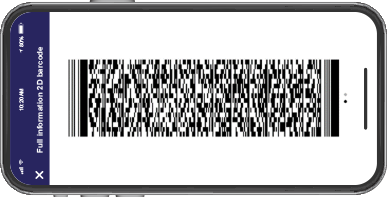 3. "Can I scan your Mobile ID QR code?"
Open the Mobile ID app.
Go to the "Me"/home screen.
Tap the "Share" icon next to "Generate privacy code".
Present the QR code for scanning to initiate the connection with the verifying device.
Accept (or Decline) the request to share information under "IDs".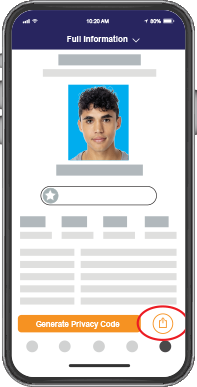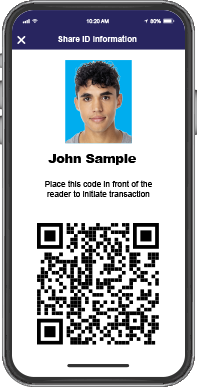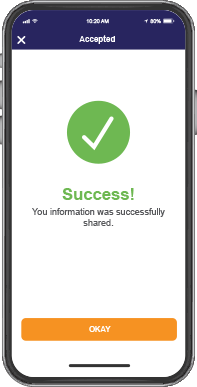 PRIVACY VIEWS
When you want to order a drink at a restaurant, the server doesn't need to know your birth date, weight, eye color, or address – they only need to know you're legal.

Privacy views allow you to share only relevant information.

Access privacy views by tapping on the arrow next to "Full information" at the top of the home screen.
Select a privacy view, e.g. Prove my age.

If you tap on Generate privacy code, the barcode that shows up contains only the information from the privacy view, in this case that you're 21+.

Join the Delaware Mobile ID Adopters Program!
Become a Delaware Mobile ID Adopter and join the growing list of businesses and state agencies that accept the digital credential. Vendors can accept the Mobile ID with confidence, as information on the digital ID can be verified against what is on file with the Division of Motor Vehicles (DMV) and will always be accurate and up-to-date.

Let customers know you accept Mobile IDs by clicking here, to join the Delaware Mobile ID Adopter Program and request a "Welcome Kit".