The DMV/Toll Operation is responsible for the safe, efficient, and environmentally sensitive network of toll plazas that offers a variety of convenient, cost-effective options for processing all vehicular traffic. Delaware has three main toll plazas and three automated ramps.
Newark Toll Plaza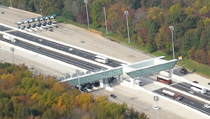 1200 Whitaker Road
Newark, Delaware 19702
302.366.7299

Located on I-95 south of the Route 896 interchange. Will soon include two highway speed lanes in each direction which will alleviate a long-standing problem of traffic delays
I-95 Toll Rate Chart
Biddles Toll Plaza
2111 Dupont Highway
Middletown, Delaware 19709
302.838.4999

Located on State Route 1 just south of the Senator William Roth Bridge. Boyd's Corner on/off ramps located south of Biddles Toll Plaza allowing access to Route 13 and Route 896.
Route 1 Toll Rate Calculator
Dover Toll Plaza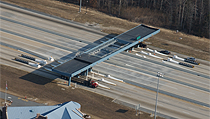 200 Plaza Drive
Dover, Delaware, 19901
302.857.5799

Located adjacent to the Dover Downs and Dover International Speedway. Denny's Road on/off ramps located at the northern end of the city of Dover and South Smyrna on/off ramps located on the south side of the town of Smyrna.
Route 1 Toll Rate Calculator


All main plazas have both staffed cash and E-ZPass lanes as well as E-ZPass accessible dual highway speed lanes in both the North and South directions. All three main plaza locations provide customer service lobbies where E-ZPass accounts can be opened and serviced. Get more information on how to obtain an E-ZPass account.